10 Things you should check before buying 1BHK, 2BHK, or 3BHK Flats in Udaipur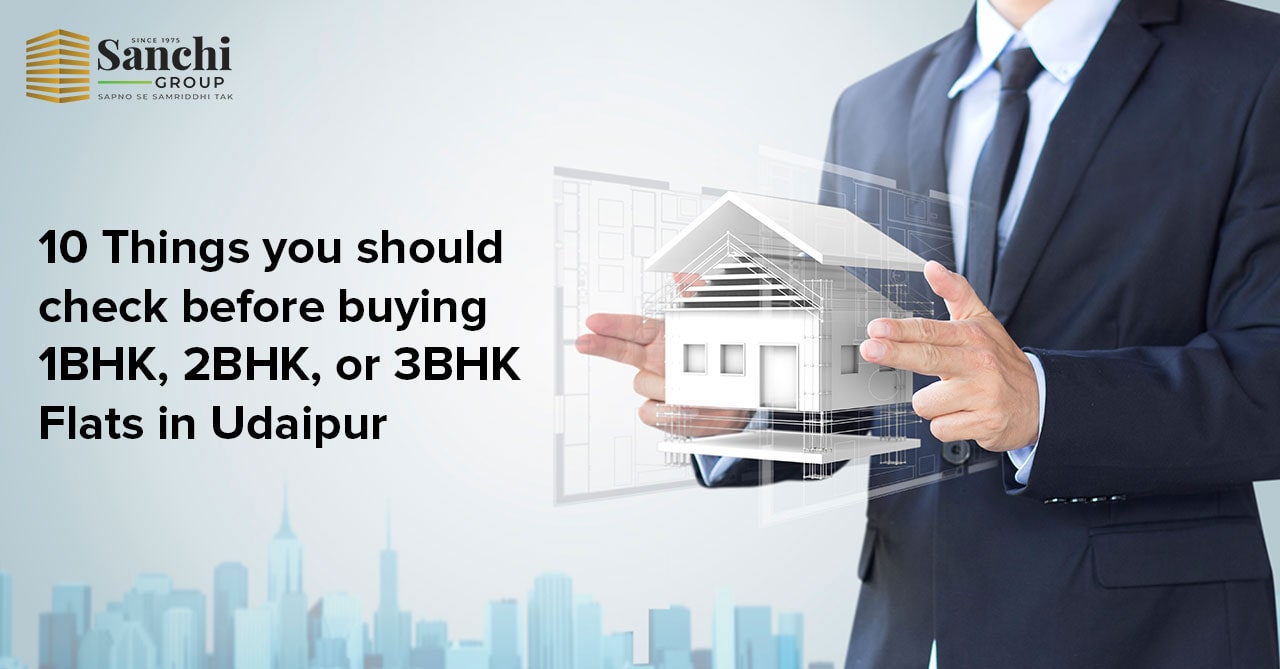 The City of Lakes, Udaipur, is beautiful and capable enough to win the heart of every individual. People often find Udaipur the best place to settle their homes and families. That's obvious, too; along with the scenic surroundings, the city is well fitted with modern infrastructure and necessities of life.
There are multiple housing options that you can choose for your dream house in Udaipur. It can be flats, bungalows, duplexes, or independent villas. Sanchi Group is one of the best real estate developers in Udaipur. We have been serving society since 1975. Sanchi group emphasizes affordable housing, fair processes, legal validation, and customer satisfaction.
If you are looking for 1 BHK, 2 BHK, or 3 BHK flats in Udaipur, you should contact the most trustworthy builder in Udaipur – Sanchi Group. You can also request a site visit with simple clicks. Before buying a flat, there are a few things that you should check and confirm. You should check the following ten things before purchasing a 1 BHK, 2 BHK, or 3 BHK flats in Udaipur.
1. Review all the legal documents:
The first step you should take while buying a 1 BHK or 2 BHK flat in Udaipur is to review all the legal documents. Sometimes it is hard for the commoner to check that. For that very purpose, you can hire a lawyer also. These documents will play an essential role in resale or tax cases.
2. Carpet Area and Configuration of the property:
Analyze the property again and again. Ask the dealer for the final carpet area of the flat. In simple words, the carpet area is defined as the inner area of the flat that the carpets can cover. Configuration is 1 BHK, 2 BHK, or 3 BHK categories. You need to check if the configuration fits right into your budget or not.

3. Trust only the top builders and real estate developers:
Trust the most experienced and reliable real estate developer to build your dream home. Sanchi Group is the most trusted real estate developer in Udaipur. Contact us for 1 BHK flat in Udaipur, 2 BHK flats in Udaipur, and 3 BHK flats in Udaipur.
4. Comparison of the prices:
After choosing 1 BHK, 2 BHK and 3 BHK flat builders. Compare their prices with market value. Are they asking the right amount for the property or higher than the market value? Sometimes, the real estate developer asks irrelevant amounts from the customers.
5. Connectivity with the central city:
When choosing the flats in Udaipur, it is important to choose an area that is well-connected and well-linked with the central city. A strong network of roads is essential around your property.
6. Electricity and water availability:
After a home, electricity and water connectivity are the basic amenities required for living. Before finalizing a property, ask the seller about its electricity and water availability.
7. Well-established society:
When choosing a 1 BHK, 2 BHK, or 3 BHK flat cross check the social status, if it is fully developed, under construction or still processing. If the society is thoroughly settled, check the kind of families or persons residing there.
8. Proximity to the important landmarks:
Before choosing a flat area, ensure that the location is situated near important landmarks like hospitals, bus stands, electricity houses, etc.
9. Facilities near the property:
Surroundings play a vital role in deciding the price of the property. Before booking a 2 BHK flat in Udaipur, check the property's locality. If the surroundings support the basic necessities like gym, grocery store, pool, school, education and other facilities.
10. Parking area:
Everyone these days owns a vehicle, some even own more than one. So it is essential to check the proper parking facilities before choosing a flat in Udaipur.
Either you check these steps or simply choose Sanchi Group. We will fulfill all our roles, from legal responsibility to moral values. We will stand by you throughout the journey to your dream home. Contact us for information.